READY…SELFIE…WIN!
#CyberbackerOOTD
ASC: C117N051222CS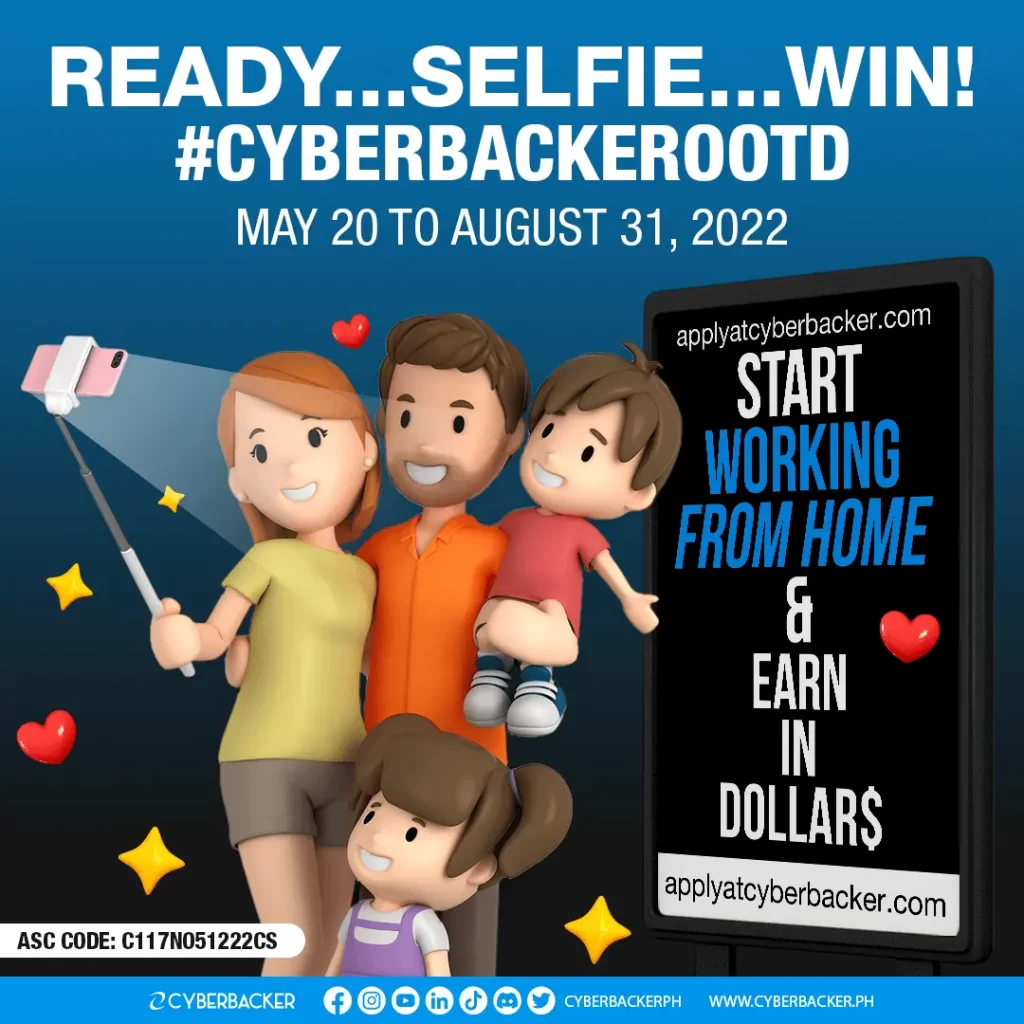 Duration: May 20 to August 31, 2022
General Mechanics:
Go to any of the following locations where Cyberbacker's digital billboard is showing:
EDSA Cubao Northbound
EDSA Guadalupe Northbound
Take a photo/video with any/all of the three digital billboards and make sure the Cyberbacker digital advertisement is clear and visible on your photo.
Should wear a WFH outfit. Must show a whole body front-facing angle. (A formal top and the usual bottom that you wear when working at home.)

Upload a photo/video with the digital billboard/s on any of these social media platforms:
Tag Cyberbacker PH (@cyberbackerph) with the #CyberbackerOOTD
Make sure that your post is set to PUBLIC. All private posts will automatically be disqualified.
The post should exist until the announcement of the winner/s. If found to be non-existent, your entry will be forfeited.
All photos posted must not be photoshopped or edited.
Paid advertisements are not allowed.
One entry per billboard location.
All entry submissions will be validated on September 1-8, 2022
The grand raffle draw will be anytime in September.
Take a screenshot of your post, copy the link directed to your social media post, and submit your entry below
Billboard locations: 
EDSA Guadalupe Northbound
How to Win and Prizes:
Grand Raffle: Internal & External
All entries who meet the qualifiers below will have a chance to be included in the Grand Raffle draw and win:
1000 USD (INTERNAL: CB and Floating)
300 USD (EXTERNAL: Non-CB)
All entries must meet the following to qualify for the grand raffle draw.

Minimum engagements to qualify(must meet all):
Irrelevant comments will not be counted. 
Comments should come from different people. 
Should have #CyberbackerOOTD every comment. Only comment/s with the hashtag will be counted. 
Shared post/s must be public. 
One share per legit account. 
Should include #CyberbackerOOTD on their shared post/s. Shared post/s without the hashtag will not be counted. 
*Date of validation may be extended without prior notice.
*Date of the grand raffle draw may change without prior notice.